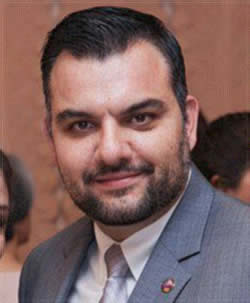 LinkedIn Profile
Levon Baronian
NASA Award-Winning Engineer
New Business Systems was founded by Levon Baronian to provide new and small to mid-size businesses the technological backing necessary to transform a great idea into the next big thing. Having been a technical co-founder and early stage developer for several successful startups himself, Levon not only understands the unique challenges faced by small to mid-sized businesses; he knows how to conquer them. Some of Levon's accomplishments and success throughout the years include:
Recipient of NASA's Achievement Award - Developed end-to-end applications for NASA's Jet Propulsion Laboratory for mission safety and assurance and to procure millions of dollars in materials and provide cost models .
Architected, designed, developed, and maintained custom financial reporting applications used by Western Asset Management, a leading global investment management firm to manage over $500 Billion in investments.
Developed large portions of MySpace.com, one of the most visited web sites on the Internet which assisted company in getting successfully acquired for $580 million in 2005.
TESTIMONIALS
"We hired Levon and his firm New Business Systems to help us develop and program a custom web based learning management system. He's the real deal. Not only is he a solid technologist, who always came up with innovative solutions for any ideas or requirements we could imagine, he was a great pleasure to work with. A true professional, he partnered with us to help navigate through our web development challenges and attain realization of our goals."

Daniel Tjahjadi

Client
"I worked closely with Levon for 6 years at Western Asset Management. We were each seniors of our respective development groups. He was one of most knowledgeable and respected members of the entire Information Technology department and it was a pleasure working with him on cross-group projects because of the focus, work-ethic, and enthusiasm he brought to every single project he worked on."

Rajesh Patel

Director of Engineering at JustFab Inc.
"After years of being in this business, I have worked with many folks from a myriad of capacities and backgrounds and there is a small group of amazing talent that I would hand pick again and again. Levon Baronian fits comfortably into that group bringing a unique and well-balanced blend of skills that ultimately make every project he touches shine with richer-than-anticipated results every time. His ability to refine and develop requirements into robust, scalable, and secure software solutions always embodied end-to-end awareness and tremendous self-sufficiency and self-motivation. It has been a privilege working with Levon and I fully endorse his expertise, character, and professionalism.."

John Allison

Principal Consultant, Cloud Solutions at NTT Data